Our improvised open mic returns in person this Wednesday at the Glad Cafe!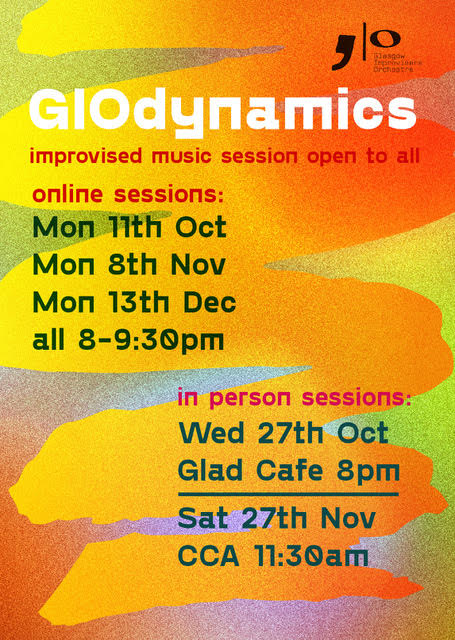 Welcome back to the first in person GIOdynamics in 18 months. The in-person sessions are now at The Glad Cafe. We'll keep the online sessions going on the 2nd Monday of every month.
GIOdynamics is a session of small group improvised music run by the Glasgow Improvisers Orchestra. There's no charge to join in.
It's a focused but relaxed session if you want to give it a go. It's fun, good for the head, maybe even the soul. Amount of experience of improvising is totally irrelevant. Everyone and all aesthetics are definitely welcome. Writing music is improvising so most people who play music have improvised. These compositions come and go. Just to say don't be put off by the term if you'd like to come and play music/ be creative in a group.
The session involves Jer putting whoever drops by into small groups for short improvisations of 5-7 minutes.
We supply amps, drum kit, vocal mics.
Look forward to seeing/ hearing you in person!
Any questions just message Jer via the GIOdynamics fb page. You can also join the facebook event if you like.
Glad Cafe COVID protocols are here: https://www.thegladcafe.co.uk/covid-19-safety-information