The global extended GIO family have been keeping in touch throughout the COVID pandemic over zoom.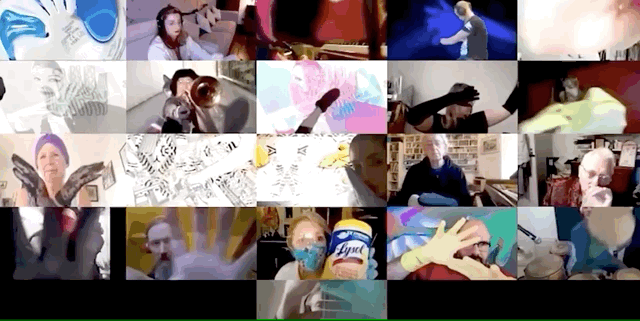 Flattening the Curve began shortly after the first UK lockdown in March 2020. GIO's fantastic cellist Jessica Argo suggested the group meet on zoom in place of their physical monthly meeting. Once that started it couldn't be stopped. Instead of just meeting monthly, GIO met twice a week for the first 3 months of lockdown, and continue to meet weekly still. Joined by an astounding group of international artists, the now extended family found a new digital home.
While GIO moved online, so did a number of clever venues which began streaming events. One of them was the Make It Up Club (AU), and GIO had an appearance on their 10th episode. Make It Up Club stream weekly improvsed concerts: every Tuesday (for us in the UK) it's at 11:00am (GMT). 
Another venue to try out life in the digital world was Mopomoso (the longest running free improvisation series in the UK) which moved online and started up Mopomoso TV. Mopomoso TV stream monthly improvisation concerts every 3rd Sunday of the month at 2PM (GMT). GIO shared some work in their second episode. 
GIO made allot of new friends over this digital time, one of them Rachel Weiss (USA) invited them to play at the 9th Miami Performance International Festival. The piece is all about gloves, concept by Rachel herself!
And if you can read norwegian check out this great little mention of the sessions, written up by a digitally attending visitor from the Savisa University journal. Check it out here!